It's more with sadness than with anger that I note the passing of movement conservatism.  It had a good run boys!  But alas, it was sabotaged from within and without both the conservative movement and the Republican Party, the allegedly titular "conservative" political party, which had been running a pretty successful shell game with conservatives; at least until recently.  "Hey just elect us and tax cuts, balanced budgets, strong on defense, rinse and repeat…"  So Conservatives dutifully voted Republican.  And they did a pretty good job at it too.  The Congress hasn't been this Republican since before the Great Depression. And just look at all the conservative initiatives that have made it through Congress…
Oh yeah.
Mark Steyn wrote a sobering piece about just this thing, The World They Made. I highly recommend it.  Steyn riffs of a Rush Limbaugh monologue about an article from The Week which detailed an eerily prescient article by an old Pat Buchanan advisor who predicted the rise of Donald Trump, or at least Trumpism.  It's unclear if he had a specific person in mind. But the author, Sam Francis wrote in 1996:
"…the globalist elites seek to drag the country into conflicts and global commitments, preside over the economic pastoralization of the United States, manage the delegitimization of our own culture, and the dispossession of our people, and disregard or diminish our national interests and national sovereignty, a nationalist reaction is almost inevitable and will probably assume populist form when it arrives." 
Pretty good guess for a 20 year old prediction, and as I noted last July after Trump announced, the signature item of note from his agenda was nationalism, specifically a kind of put-America-first old fashioned economic nationalism. That's finally taken root to the extent that, as Steyn notes:
"Rush's view is that "nationalism and populism have overtaken conservatism in terms of appeal" – ie, that there are insufficient takers for conservatism. It comes to something when the nation's Number One conservative talk-show host is putting it that way, but you can see what he's getting at."
And in the still not getting it department comes The National Review.  I have a lot of affection for the National Review.  It was one of the first conservative publications I stumbled across in college, and I've read and occasionally subscribed to it since then.  But the spasmodic reaction to Trump over the past 6 months makes me wonder how I can have a better understanding of the conservative movement, and what the attraction of economic nationalism is then "Professional" conservatives who are supposed to be well inculcated into the movement.  How could they not see this coming?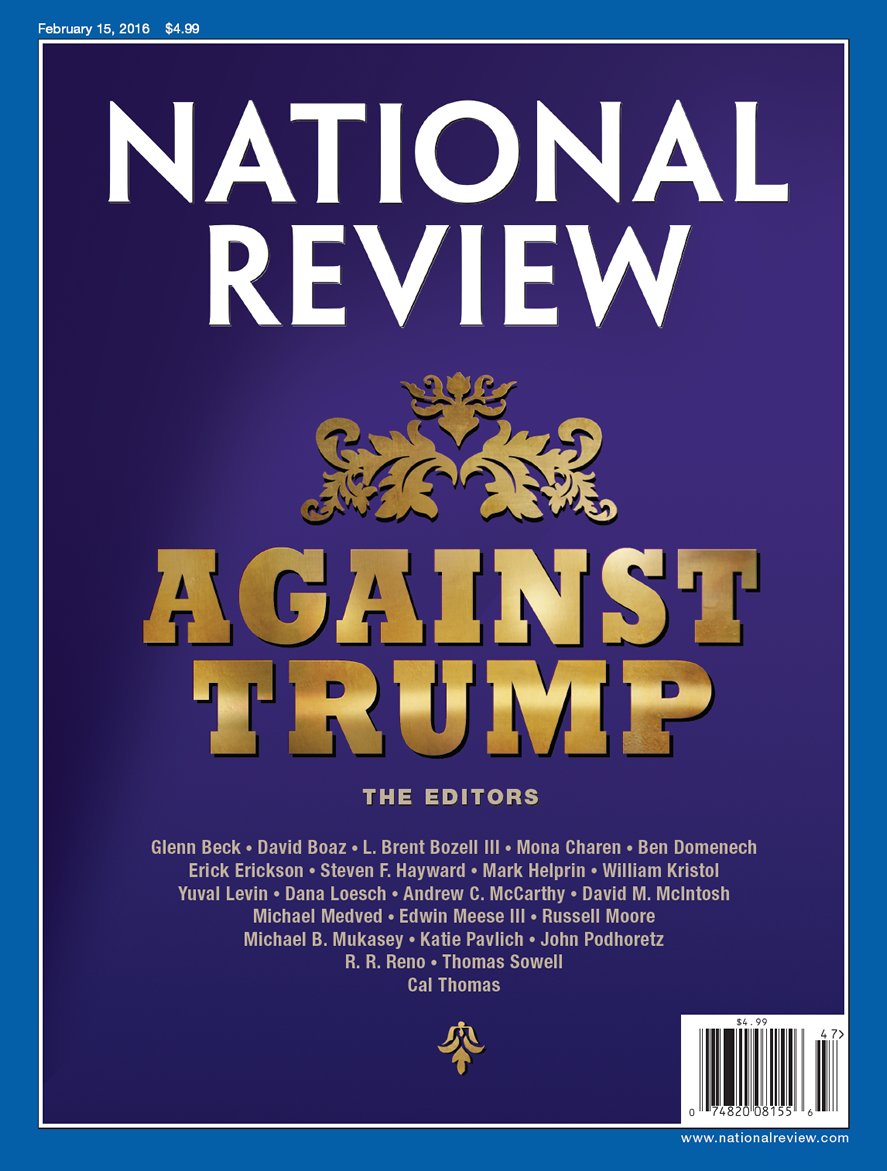 Now the magazine has gone into full scale attack mode against Donald Trump, featuring a special issue dedicated to attacking Trump.  The charge of course is that Trump is not a real conservative, which is surprising considering how many moderates the magazine has endorsed for President because "we want to win."  This time, to Conservative Inc and GOP Inc, losing looks like the far preferable option.
I've never seen anything like this.  History will record this as a major battle in the Republican Civil War, but there may not be any winners in this war.
At least on the Right.