As you get older, it seems like these events come around more quickly…
WASHINGTON (Reuters) – The U.S. government will have to stop borrowing money between July and December if Washington doesn't agree to raise a legal restriction on public debt, the Treasury Department said on Wednesday.
Hitting that so-called "debt ceiling" could trigger a U.S. default on its debt and an immediate recession, a risk that has become a regular facet of U.S. politics over the last decade.
The current debt limit was set in March. Treasury has been able to continue borrowing from investors by using accounting measures such as limiting government payments to public sector retirement funds.
Yes its debt ceiling time one again.  In fact, we're so used to it now that the real debt ceiling was hit back in March and the Treasury just went into its automatic back up plan. With the Administration and Congress not talking to each other, constant fiscal crisis could become routine.
But that's nothing compared to what's coming.  According to OBM projections, starting in 2025, all of our federal government borrowing will go to finance the interest on the national debt, as illustrated in this handy chart: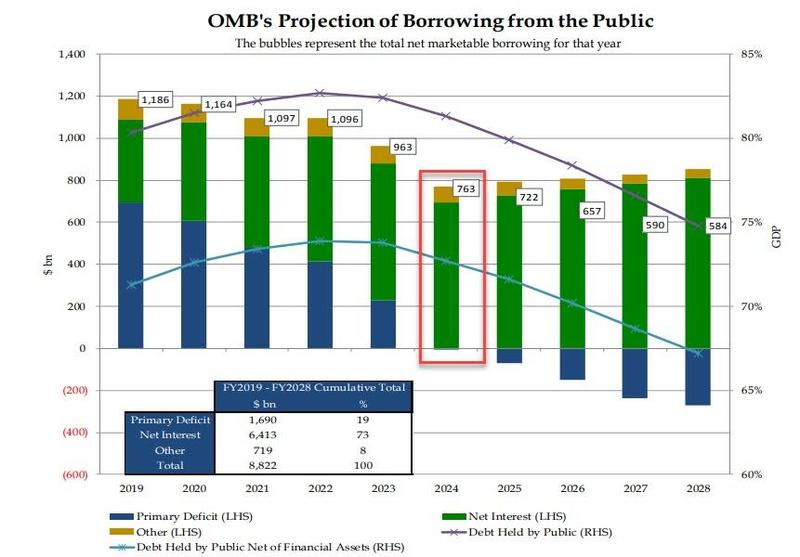 It's like when you reach the point that you are getting cash advances on your credit cards to pay your minimum credit card payments on other cards.  Frankly, I don't know what this really means in terms of the impact on our economy.  Will interest rates skyrocket?  Will we go into an instant recession?  Will inflation coming roaring back? I don't know and I'm not sure anyone knows.  It would be nice to think that we could work through our problems and come to some sort of bipartisan agreement (*cough* Balanced Budget Amendment *cough*) but the odds of that seem a lot less than us all coming together and dealing with the debt ceiling crisis that's coming up this year.