Now with spoilers.
Now that the season four finale has concluded, I've got a few things to say. I last wrote about Fear the Walking Dead back in April, and didn't expect to revisit it.  After all, my review was mostly negative, and I didn't actually expect the show to get better did I?  I'm not alone in that assessment. The website CBR has a pretty good take on what went wrong with FTWD and it matches up roughly with my own thoughts. And with the season four premiere up through the mid-season finale, it seemed like the same old crappy Fear.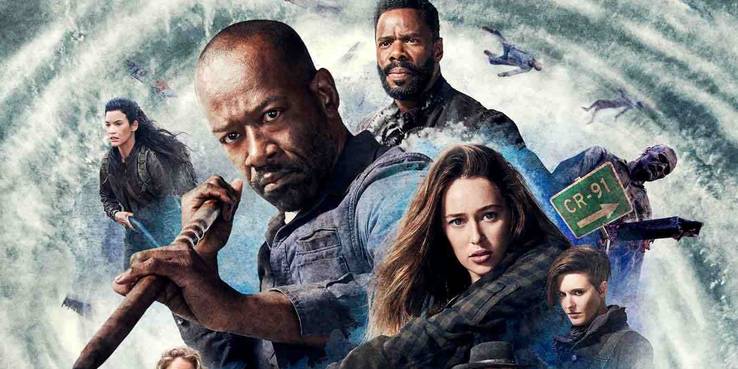 It starts off with some time having passed since the season three finale, with Madison and her surviving crew is now occupying a baseball stadium somewhere in Texas.  However Madison is acting totally out of character. Very differently than the way she has previously been portrayed; less Negan and more Rick and she's not wrecking every situation she stumbles into.  That of course makes no sense since we're never shown the character arc that took her from a selfish piece of garbage to a savior. But that's less important than the fact that the entire story, from episode one to the midseason finale in episode 8, makes no sense because of, you guessed it, erratic time jumps, the entire story was played out of order, for what assumedly are "artistic" reasons, but story wise are just a distraction, since you never know from one scene to the next where in the timeline the story sits.  This made this story arc more or less unintelligible.
Long story short, Nick (Frank Dillane) and Madison (Kim Dickens) both wind up dead; with Madison's pointless death somehow appearing to be heroic.  At that point, I just didn't care because it seemed so out of character that I really didn't find anything self-sacrificing about it at all; particularly when their foe was probably the stupidest concept for a roving band ever.  The "Vultures" methodology was to set up outside of an encampment and just tailgate until the people in the camp got so bored with them they would voluntarily open the gates and let the Vultures loot.
Seriously.
Luckily for the show, the second half of the season took a totally different path.  The only surviving member of the Clark family and from the pilot episode was Alicia (Alycia Debnam-Carey).  The survivors of both the Vultures "attack" and Madison's immolation of their baseball field compound are scattered with a Hurricane bearing down on them.  The lack of any sort of early warning for the hurricane plays a role in the desperate situation the group finds itself in.
Having a liner timeline, instead of weird artsy time jumps across the story, definitely was an improvement on what came previously.  Killing Madison, as unlikable a lead character as any I've come across helped as well. This allowed the producers to rebuild the show with a new, much improved cast.  Basically they've fire blasted what came before, and rebuilt a totally new show in its place. That was the sort of major restructuring that was needed if this show was going to survive.  How much that is due to new showrunners Andrew Chambliss and Ian Goldberg is anyone's guess, but they'll be sure to get the credit if Fear's ratings improve.
The show was so much improved that I was actually entertained by some of the episodes, particularly episode 10 "Close Your Eyes," which had Alicia and pre-teen Charlie (the killer of Alicia's brother Nick) trapped in a house together during the hurricane, while the house is under siege by the dead.  That's probably the best episode of the entire series.  If Fear can keep cranking out a few episodes like that every season, it might finally shrug off its poor history and become a worthy member of the Walking Dead Universe.
Observations
The Walking Dead Universe used to be more observant of the fact that at this point, approximately 2 years after the Zombie Apocalypse, every car battery that's actually connected would be dead.  That's not even counting that the fuel would be going bad, but hopping in a Paramedic vehicle that's been sitting for two years and just taking off seems like a big ole story telling gap.  That's not even counting Morgan's stunt of throwing a body off the roof of a building onto a car and the car alarm starts blaring…come on.
Weirdly, the Walking Dead Universe regards middle aged women as the incredible bad asses who are both greatest asset and greatest danger.  On the Walking Dead, Carol goes from abused housewife to commando killer.   On Fear, new character "Martha," a former English teacher in her 50's is the thorn in the side of the group.  Sorry, I'm just not buying it.